Apa itu Yahoo! untuk lebih jelas nya bisa baca - baca disini , maaf apabila saya tidak menjelaskan nya..
Mari kita lanjutkan ke tutorial blogger tentang Cara Cepat Submit Blogger ke Yahoo , sebenarnya penting juga sih blogs anda di daftarkan ke yahoo karena yahoo ini menduduki peringkat kedua di search engine , jadi bagaimana apakah anda berminat untuk mendaftarkan blogs anda di Yahoo , jika berminat silahkan ikuti langkah - langkah di bawah ini cekidot
langkah pertama
Silahkan anda menuju ke Yahoo site explorer nah disitu anda akan menerima dua pilihan Di antara nya Submit a Website or Webpage dan Submit Site Feed silahkan Pilih Submit a Website or Webpage kemudian masukkan alamat blogs anda kemudian klik Submit URL seperti contoh gambar di bawah ini
langkah kedua
Setelah anda meng klik Submit URL anda akan di minta untuk log in ke account anda , silahkan masukkan account anda dengan baik seperti gambar di bawah ini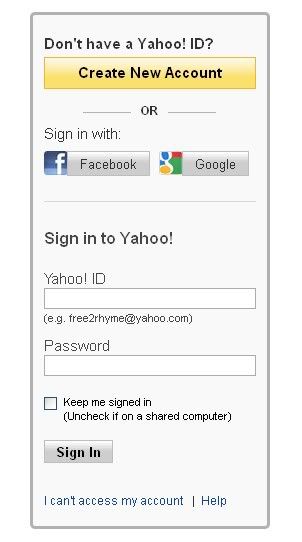 langkah ketiga
Setelah anda masuk ke account anda , silahkan klik My sites yang terdapat di sebelah kiri , masukkan alamat blogs anda contoh

http://brotherrickyxp.blogspot.com/

kemudian klik Add My site

seperti gambar di bawah ini

langkah keempat
Setelah itu anda akan di arah kan seperti gambar di bawah ini , nah disitu terdapat dua pilihan
di

Authentication

,

How would you like to authenticate your site?

Silahkan anda pilih

By adding a META tag to my home page
kemudian silahkan anda Copy paste Meta tag yang terdapat di no 1 ke blogs anda dengan cara login ke Blog anda Pilih rancangan --> Edit HTML Pastekan Kode tadi tepat di bawah kode di bawah ini
kemudian jangan lupa simpan template anda.
langkah kelima
Silahkan anda klik Feeds , disitu anda bisa memasukkan beberapa feeds diantaranya
- atom.xml
- rss.xml
- feeds/posts/default
- feeds/posts/default?alt=rss
jika anda sudah memasukkan Feeds tadi silahkan klik Add Feed seperti contoh gambar di bawah ini
>>
Cara Membuat Blog Gratis di Blogger Blogspot
>>
Free Responsive Templates Download
>>
Free Online Shop Templates Free website / Blogs
>>
Google Webmaster Tools verification site ownership
>>
Cara Mendaftarkan Blogs ke Alexa